SURPRISE! NIGERIA IS NOT ON THE LIST! CLAP FOR YOURSELVES!!!!
In the early 80′s, Bob Geldof of the band called The Boomtown Rats saw in the news the massive famine engulfing the African country of Ethiopia. He felt guilty because he couldn't believe that while the Western world was suffering from an abundance of wealth and food, a continent just below them were a people that did not have anything at all.
He organized Band Aid, enlisting the help of other stars like Bono, George Michaeland Sting, to raise funds for Africa through a song entitled "Do They Know It's Christmas?" Their counterparts in the United States followed suit, with Michael Jackson and Lionel Richie writing a song called "We are the World." They then banded together for Live Aid, that added stars like Madonna, Paul McCartney andElton John in a two-continent concert.
Yet, almost three decades after, Africa remains a veritable wasteland. Out of the 20 poorest countries in the world, 17 comes from the continent, including nine out of the top 10.
Based on the different countries' gross domestic product purchasing power parity, here are the 20 poorest countries in the world in 2013.
20. Haiti – $1,358.10
Haiti is a country in the Caribbean that was the first independent nation of Latin America, the second republic in the entire Americas, and the first republic in the world to be led by blacks. It is one of only two nations in the Americas to speak French in an official capacity. It has been ravaged by political violence throughout its history.
19. Nepal – $1,347.62
Nepal is a landlocked country in South Asia. It is home to eight of the 10 tallest mountains in the world, including the tallest at Mt. Everest. It is host to Lumbini, one of the holiest places in the world as it was the birthplace of Lord Buddha. It suffered from a civil war that culminated to an agreement in 2008 to abolish the monarchy.
18. South Sudan – $1,324.10
South Sudan is a new state that got its independence in 2011. It is a landlocked country in east central Africa. It has little infrastructure and has the highest maternal mortality and female illiteracy rates in the word. It has one of the most underdeveloped economies in the world.
17. Comoros – $1,296.77
Comoros is an archipelago off the eastern coast of Africa. It is the third smallest nation in Africa based on area. Its unique position allows it to become the only nation that is a member of the African Union, Francophonie, Organisation of Islamic Cooperation, Arab League and the Indian Ocean Commission at the same time. It has suffered from numerous coup attempts, and half its people live below the poverty line.
16. Guinea-Bissau – $1,268.46
Guinea-Bissau is a country in West Africa that was once part of the Mali Empire. It has been independent since 1973, but no president has ever served the full five-year term because of political instability.
15. Mozambique – $1,262.96
Mozambique is a country in southeast Africa. Endowed with rich natural resources, its average GDP growth is actually quite high. It however lags behind in GDP per capita, human development, average life expectancy and inequality measures.
14. Ethiopia – $1,258.60
Ethiopia is a country located in the Horn of Africa. It is the most populous landlocked country in the world and the second most populated nation in the entire African continent. It actually has the largest GDP in central and east Africa, but famines and civil wars in the past destabilized the country.
13. Guinea – $1,162.18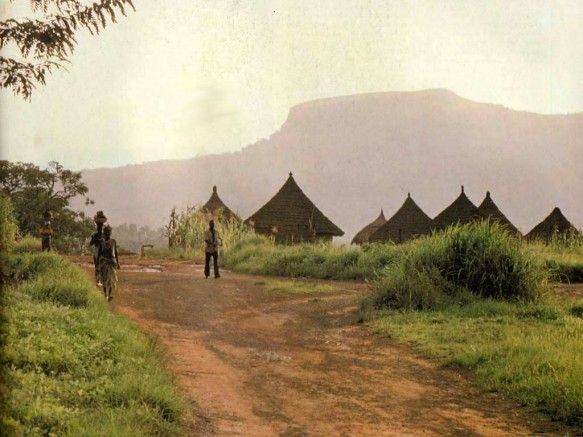 Guinea is a country in the western part of Africa. It is the second largest producer of bauxite in the world and is known to have rich deposits of gold and diamonds. It is marked with poor infrastructure and frequent electricity and water shortages.
12. Togo – $1,145.94
Togo is a country in west Africa. Though it serves as a regional and trade center in the region, economic reforms and activities have been stalled by political strife and instability.
11. Mali – $1,136.77
Mali is a landlocked country in west Africa. It is the third largest producer of gold in the African continent. Half of its population lives below the international poverty line.
10. Afghanistan – $1,072.19
Afghanistan is a landlocked country in South Asia that is considered as one of the most dangerous in the world. It is the largest producer of refugees and asylum seekers in the world. Terrorist groups still abound in the country despite international efforts to rebuild the country.
9. Madagascar – $972.07
Madagascar is an island country off the coast of southeast Africa. It is a biodiversity hotspot, with 90 percent of its wildlife unique to the country. Over 90 percent of its population lives at less than two dollars per day.
8. Malawi – $893.84
Malawi is a landlocked country in southeast Africa. It has a low life expectancy and high infant mortality. There is also a high prevalence of AIDS among its population.
7. Niger – $853.43
Niger is a landlocked country in western Africa. It suffers from a lack of infrastructure, poor health care, environmental degradation and poor education among its people.
6. Central African Republic – $827.93
The Central African Republic is a landlocked country in central Africa. It has degenerated into practical anarchy after a coup in March 2013 removed all vestiges left of governance. It also suffered from armed conflicts in the 2000′s.
5. Eritrea – $792.13
Eritrea is a country in the Horn of Africa. It became independent in 1991. It actually has a fast growing economy at 8.7 percent, though much of its GDP was accounted for by remittances from abroad.
4. Liberia – $716.04
Liberia is a country in west Africa. A coup in 1980 marked the start of a long period of instability, with the country ravaged by two civil wars. It devastated the economy and left 250,000 people dead.
3. Burundi – $648.58
Burundi is a landlocked country in east Africa. It has a dense population that suffers from constant warfare, corruption, poor education and widespread contamination of AIDS.
2. Zimbabwe – $589.46
Zimbabwe is a landlocked country in south Africa. It has been ruled by Robert Mugabe since 1980 and he is often blamed for the country's poor human rights record and economic decline.
1. Democratic Republic of Congo – $394.25
The Democratic Republic of Congo is the second largest country in Africa. It is beset with violent atrocities because of the fight for control of its mineral wealth. While it has potential in agriculture, it suffers from a high rate of malnutrition and mortality.
Comments
comments